News
Gratitude Farms selected for World Economic Forum's 1t.Org "Trillion Trees India" Program
by Ved Prakash Sharma on Jun 03, 2023
India is one of the most vulnerable countries in the world in terms of the impact of climate change. In response, the Government has made aggressive commitments to restore 26 million hectares of deforested and degraded land and sequester an additional 2.5 to 3 billion tons of CO2 equivalent through increased forest and tree cover by 2030. To facilitate multi-stakeholder action agenda to conserve and restore India's forest landscapes, World Economic Forum's 1t.org (https://www.1t.org) launched Trillion Trees: India Challenge last year. The innovation challenge called for solutions that conserve and restore forest landscapes, improve food security and livelihoods of rural communities, offer enabling technology, and mobilize city dwellers.
It is a matter of pride and honour for Gratitude Farms to be selected as one of the 13 Ecopreneur Enterprises in India for the Trillion Trees India Program.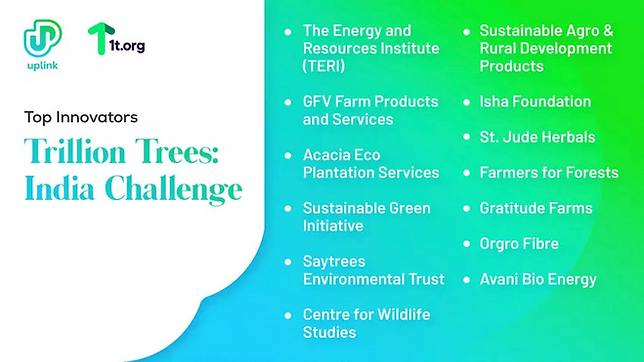 The "Trillion Trees India" Program was launched on 23 Mar 2022 through a panel discussion. The keynote address was given by Mr. Amitabh Kant, CEO, NITI Aayog.
Gratitude Farms' Core Value Proposition
Our business model follows an eco-system approach that combines the two ends of the value chain of natural farming …
At the production end,
we have developed a high-yield Natural Precision Farming Practice (Food Forest Model) that combines traditional natural farming practices with technology and operational discipline at grass-root level. This is done with ex-soldiers, duly trained as Farmland Supervisors and grassroot leaders. The Food- Forest Model is designed to be a highly replicable and scalable farmland (optimised for 2-5 acres farmland; specifically for small and marginal farmers) that can be adapted to different agri-climatic conditions across the country.
"Food Forest" addresses two major issues:
Remove the myth of low profitability for small / marginal farmers in natural / organic farming; our nominal yield, net of major agri-risks is about 12-14 tons per acre per year of fruits, greens and vegetables, from second year onwards.
Dignified livelihood for ex-servicemen, rural women and youth in their own villages. We also have a range of innovative on-farm value additions to increase the revenue per acre for small farmers (solar drying, micro-food forest, enriched vermi-composting and so on).
At the consumer end, we sell directly to B2B customers that include large F&V suppliers as also B2B2C customers like Supermarkets and Hyperlocal Stores for organic vegetables, fruits and greens. We are currently operating in Chennai, Pondicherry and Tiruvannamalai.
We focus on "low -food-miles". All our Farms are within 100-120 km of the consumers. This helps not only in reducing logistics costs but also gives exceptional freshness and nutritional value of our produce to our customers.
test